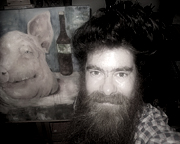 Corey Michael Smithson is a multi-media artist currently living in Brooklyn. His work explores various dimensions of queerness, identity, gender, eroticism, self-expression, biology, history, beauty, shock, fear, and love. He has dedicated his life to the service of art.
Thank you so much for visiting! Check back periodically for new information and updates. Enjoy!
To see examples of my corporate video work, visit my CORPORATE sub-section.